Puppy Buying Tips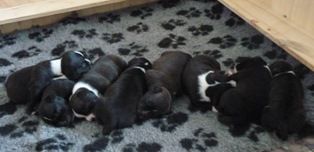 The average price for a DogsNZ registered puppy varies between $3,000-$3,500.
Colour and sex DO NOT determine the price of the puppy. There is no such thing as a rare colour. Acceptable colours in the breed include red, fawn, white, black or blue, or any of these colours with white. Any shade of brindle or any shade of brindle with white. Black & tan or liver colour are highly undesirable. Although liver and black & tan are unsuitable for showing and breeding, they still make wonderful pets.
Both parents must be DogsNZ registered.
The breeder must also be a financial member of the DogsNZ and have an approved breeders prefix (eg: kennel name).
When purchasing your puppy, make sure you receive documentation to prove your puppy is pure bred, your NZKC registration papers should be sent away by the breeder and can take around 2-4 weeks to arrive to you.
If the breeder of your new puppy has asked you to sign a contract - ensure you fully understand any special conditions that the breeder requires from you and that you agree with these conditions before you sign.
Look for plump, bright eyed, active puppies in clean surroundings.
Make sure the puppies have been fully wormed and vaccinated and that they are 8 weeks of age before leaving for their new homes.
Ensure you receive a receipt for "pure bred DogsNZ registered Staffordshire Bull Terrier". The receipt should include the sellers full name, contact details and membership number.
Remember that there are a lot of people out there trying to make money by breeding dogs. These people don't put the welfare of the puppies first and foremost. You want to find a responsible breeder that puts a lot of time and effort into raising their puppies. You will be more likely to get yourself a healthier, more well adjusted puppy if you look for a responsible breeder. This will however take time and patience.
Contact Details
The Northern Staffordshire Bull Terrier Club
Secretary
Margaret Pilawa
PO Box 476, Silverdale, Auckland, New Zealand
+64 278278867

Email: [email protected]